What will happen to my Intraday position if the stock hits the circuit limit?
An Intraday position in Equity allows you to buy or sell stocks with leverage (up to 5 times the money in your account). However, you must close your Intraday trades on the same day. If you don't, we will try to close them for you around 3.15 PM. But sometimes, the stock price can hit the circuit limit (Upper or Lower circuit), and the trading will continue at said circuit price.

A circuit limit is a safety measure set by the exchange to prevent extreme price movements in a short time. It is a range of upper and lower prices for each stock. For example, the circuit limit for Bajaj Auto Ltd. is ₹4992.75 (upper) and ₹4085.05 (lower).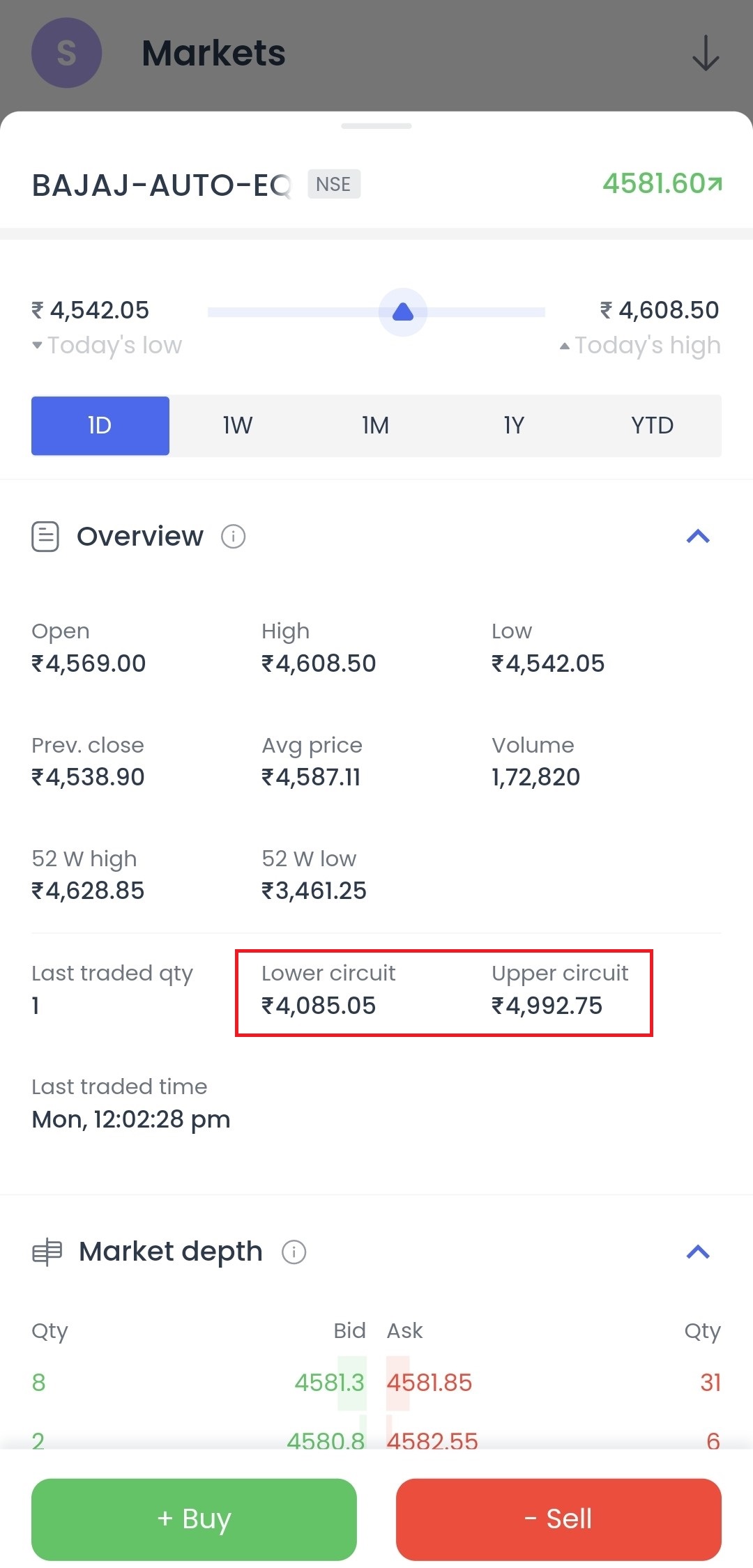 Here are some possible scenarios and their outcomes:
You have an open Intraday sell position and the stock hits the upper circuit. In such cases, you will have only buyers and no sellers in the market. So, you will be unable to buy back and the position will have to be converted to delivery and due for auction settlement. A margin of 120% of the stock's closing price will be blocked on T day in your trading account. Auction settlement can happen in anyone of the following:




Internal settlement: The internal settlement will happen on T+1 and the previous day highest bid will be the settlement price.

External settlement: It will happen in T+1 and will be settled by the exchange at a pre-determined price (A maximum of 20% can be auction shortage penalty).

You have an open Intraday buy position and the stock hits the lower circuit. You cannot sell the shares you bought, and your position will be converted to delivery. You must have enough funds in your account to get the shares delivered to your Demat account. If not, you can add funds or sell other holdings to cover the shortfall. If you fail to do so, we will sell your holdings to recover our dues.



To avoid such situations, we recommend you to monitor your Intraday positions closely and square them off before the market closes.