What product should be selected to carry forward the F&O contract till expiry?
In order to place an overnight carry forward position in any F&O contract, you have to select the Product 'Margin' as shown in the image below: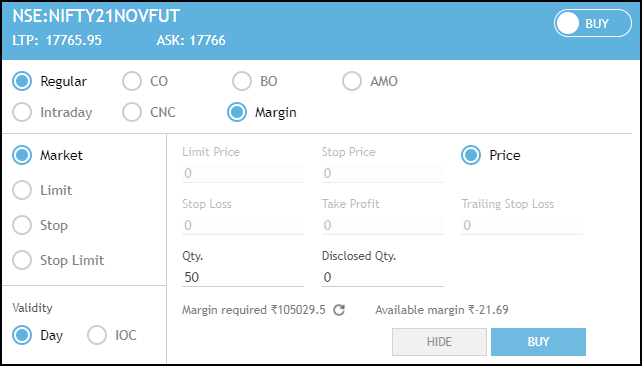 Note
: Any order of F&O contract placed in CNC will be rejected
Related Articles

What product types can I use to place orders in Fyers?

There are various kinds of traders in the market having their styles and trading methods. Therefore, in order to meet all the their requirements, we provide you with multiple options on the order window. Majorly, they are divided into two types: ...

Can I carry forward Intraday Futures positions?

Yes, you can carry forward the Intraday futures position to overnight carry forward position simply by clicking on "Convert" option under 'Positions' Tab in the Dashboard and there is no additional margin required as the intraday margin is same as ...

Can I pledge my Fixed Deposit to trade in F&O contracts?

Currently, Fixed deposits are not available for pledging to trade in F&O due to operational and reconciliation constraints. However, we might come up with such a facility in the future. You can check out the list of approved securities and Mutual ...

How can I exercise my options at expiry?

All ITM options will automatically be exercised by the exchange on the last day of contract expiry.

What will happen if my Intraday F&O positions are not squared off by EOD?

Your intraday positions will be auto squared off by our RMS after reaching a threshold time to do so. For Equity, F&O, Currency and commodities segment the intraday square off will commence 15 minutes before the market closes. However, it is ...