What is the difference between Trade and Invest in the order panel?
'Trade' option is nothing but Intraday where the Buy and Sell-side of the transactions happen on the same day. Trade is divided into 3 sub-categories:
Intraday

Cover Order (CO)

Bracket Order (BO)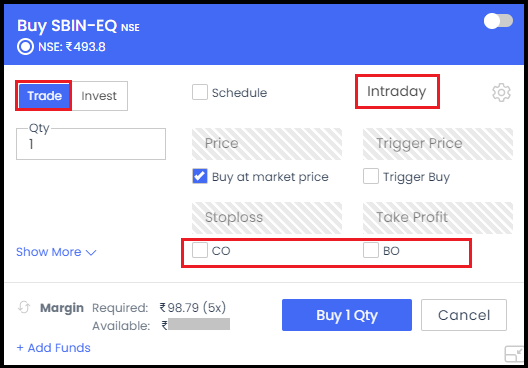 'Invest' option is for taking an overnight position (for F&O) or Investing for the long-term (for Equity).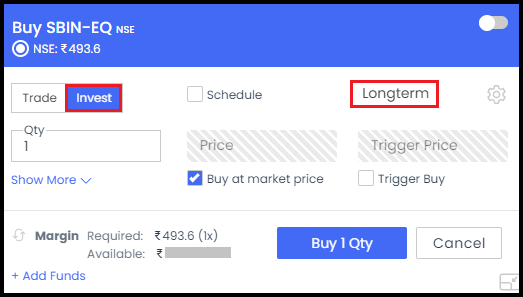 Related Articles

What is product and order in the user settings of the order panel?

The product and order type function helps you to preset your preferences. Product type includes Intraday, BO, CO, and Invest, whereas Order type includes Market, Limit, Trigger, and Trigger Limit. This feature has been incorporated into the New Order ...

How does the basket order option work in the order panel?

The basket order feature under the order panel is incorporated for ease of adding scrips to the basket or creating new baskets. All you have to do is go to the desired scrip, open the order panel, click on show more and enable the option of 'Basket ...

How to place Bracket Order in FYERS?

A bracket order is an intraday order which is one of the trending products in the capital markets. It helps you manage your risk and trade efficiently. You can place a bracket order in FYERS and keep a check on your trades on the charts effortlessly. ...

What are alerts in the order panel?

The alerts option in the order window has been introduced to keep a check on your trading patterns and risk management. There are four options for setting alerts, namely: Price Stop-loss Value Max Loss Price: In this box, you need to enter the ...

What is a Schedule Order?

Schedule Order (previously known as After Market Order) is an order placed during the offline hours of the market. In simple words, a Schedule order is an order placed after the markets are closed for the day. It will be executed on the next trading ...