What is order slicing and how to enable the feature?
Order slicing is a feature that allows you to trade large orders without affecting the market price or placing multiple orders manually. It automatically splits your orders into smaller chunks based on the freeze quantity of the instrument you are trading.
For instance, if you want to buy 1500 quantities of Nifty Bank Futures, which has a freeze quantity of 900, order slicing will divide your order into two parts: 900 and 600. This way, your order can be executed faster and more efficiently, without having to place multiple orders and avoid impact cost.
To use order slicing feature on FYERS platform, follow these steps:
Log in to the FYERS platforms and select the instrument you want to trade and enter the quantity you want to buy or sell.

You don't need to select any option for order slicing, as it happens automatically for orders that exceed the freeze quantity of the instrument.

You will see a message, "Order Slicing: XX qty is allowed per order, X Buy/Sell orders will be placed". Confirm your order details and click on 'Buy/Sell

You can track the status of your sliced orders in the 'Order Book' tab.
Checkout the below image for your reference: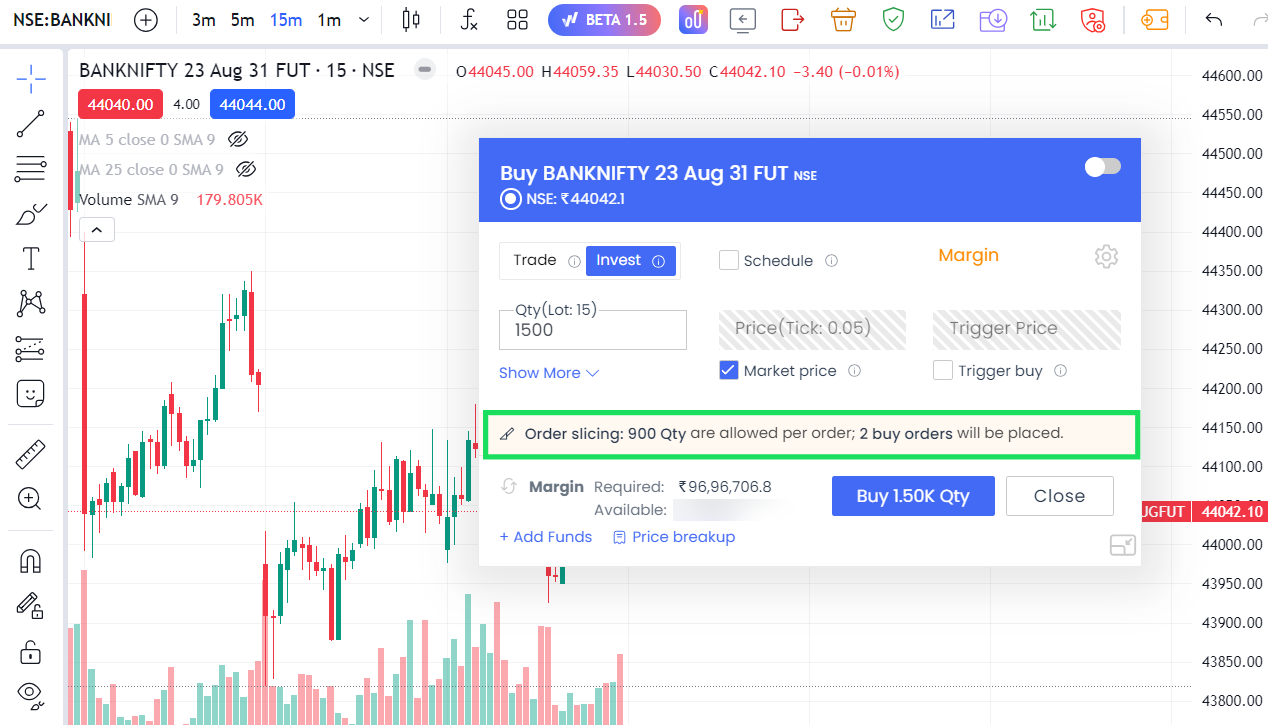 Note
: This feature is currently available only on FYERS Web 1.5 and
FYERS EA
.
Related Articles

How to enable real-time order notifications in Fyers Web?

Real-time order notifications help you track the real-time orders placed and executed from time to time. By default, the notifications are disabled, however, you can re-enable the same by following the steps below: Login to Fyers Web and Go to User ...

What is a market order?

A market order is an order to either buy or sell an investment at the best available price in the market at that particular moment in time.

What is a limit order?

A limit order is a type of order to either buy or to sell a security at a specified price. The order will either get executed at the limit price mentioned by you at the time of order placement or would not get executed at all. If the price does not ...

What is disclosed order quantity?

In normal orders, the entire order quantity is disclosed to the market. But order with a disclosed quantity allows the investor to disclose only a part of the order to the market. For example, Mr. X wants to buy 100000 shares of a stock at the ...

What is a stop-loss order?

It is an order to exit an open position when it reaches a specified price. These orders are designed to limit the investor's loss.