How to sell my holdings using E-DIS?
Electronic Delivery Instruction Slip (EDIS) was introduced to facilitate investors to sell their holdings using a TPIN/OTP that will be sent to their Registered Mobile Number and Email ID.
The procedure to sell the holdings using E-DIS is as below:
1. Go to the scrip you want to sell and place a Sell order in CNC, you'll get a pop-up as shown in the image below: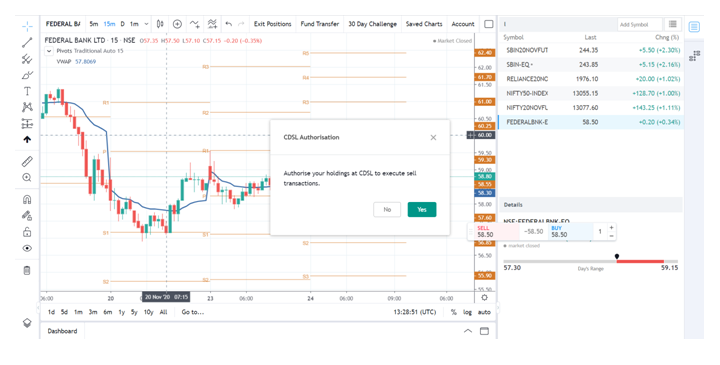 2. Once you click on 'Yes', a pop-up window of the CDSL authorization page will appear. If you don't know the TPIN, you can generate the same by clicking on "Forgot CDSL TPIN".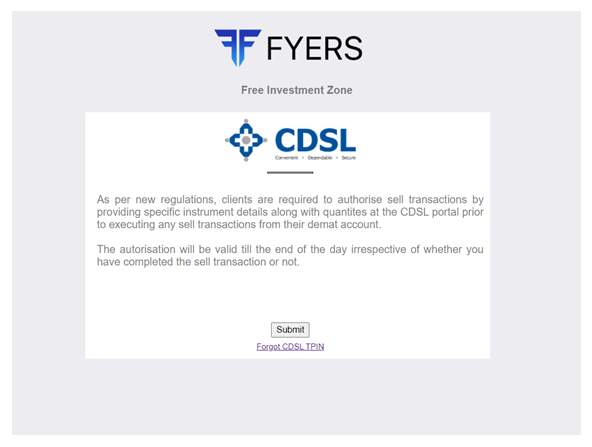 3. A New CDSL TPIN will be generated and sent to your registered E-mail ID and mobile number by the CDSL.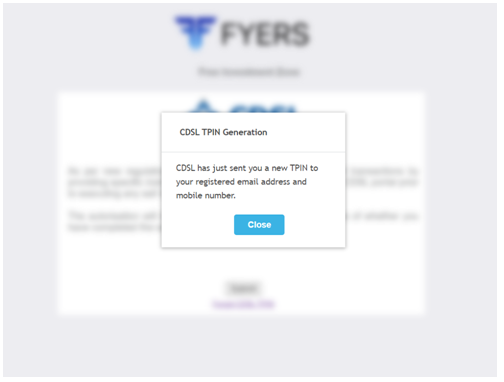 4. Click on "Submit" and complete the 2-factor authentication by entering the TPIN which is sent to your registered email address and mobile number. Click on "Verify".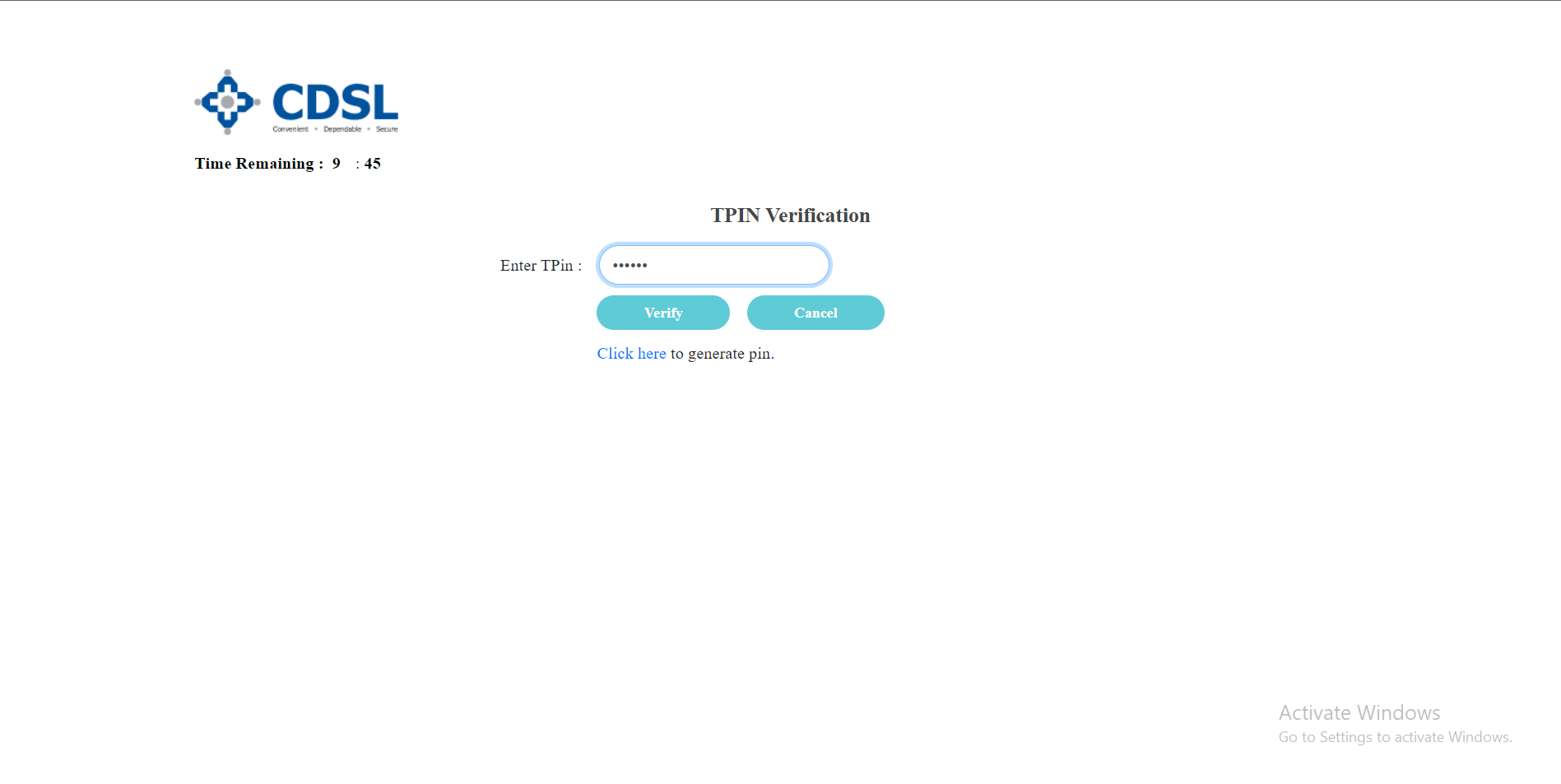 5.
You're required to complete the procedure by entering TPIN on the "e-DIS Transaction Verification" page.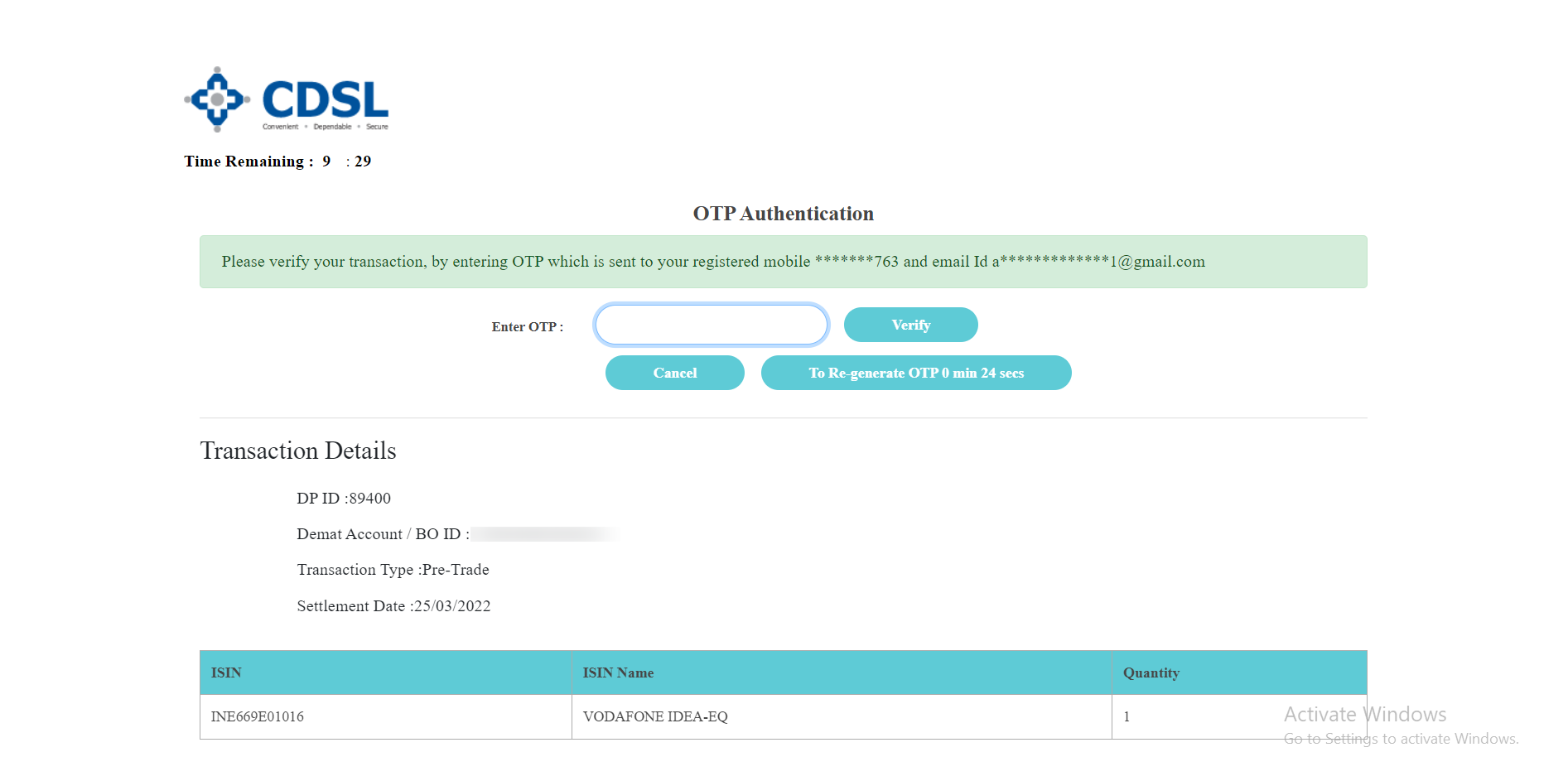 6. Enter your TPIN and click on "Verify". Once you Authorize, you'll get the below confirmation message.

6. You can close this window and place the Sell orders in CNC without any hassles.
For FYERS Mobile Application, the procedure for Pre-Authorization will be the same and the display will look similar to the image below: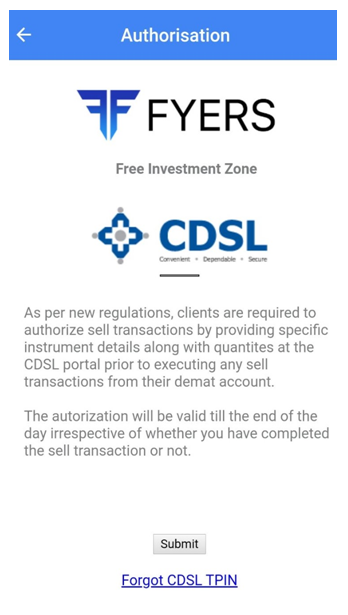 For more information on E-DIS, refer to this blog.
Related Articles

Does FYERS provide collateral margin against holdings/securities?

Yes, we do provide collateral margin against your holdings, i.e., stocks, ETFs, and MFs. You can pledge your holdings for collateral margins, which will be credited into your trading account after a deduction of a certain percentage or haircut. ...

Can I buy and sell Far OTM Options in FYERS?

Yes, We provide you a wider strike price range for options trading and you can Buy/Sell Far Out of The Money (OTM) Options Contracts. Options Buying Index Options – You can Buy OTM Options up to a range of 20% from the LTP. Stock Options – You can ...

How to unpledge my holdings in FYERS?

You can Unpledge your holdings online from the Pledge portal. The procedure to unpledge is as follows: 1. Once you login to our Pledge Portal, click on 'Unpledge' Tab, you'll find the list of pledged holdings as shown in the image below: 2. Select ...

How much time does it take to unpledge holdings?

If the request for unpledge of the holdings is received before 3:30 PM on working days, the holdings will be unpledged between 24-48 working hours. Please note that the unpledge requests are not accepted after 3:30 PM. However, on the next trading ...

Can I short sell futures contracts without having the underlying shares in my Demat account?

Yes. Since all derivative positions are settled in cash, the investor can short sell futures contracts without having the underlying shares in his/her Demat account.