How to revoke FYERS API Access?
If you want to cancel/delete the FYERS API access, you can do it by yourself in the My API Dashboard.
Login to My API with your FYERS credentials and go to the Dashboard, you'll be able to view all the APIs you've created along with all the FYERS applications as displayed in the below image: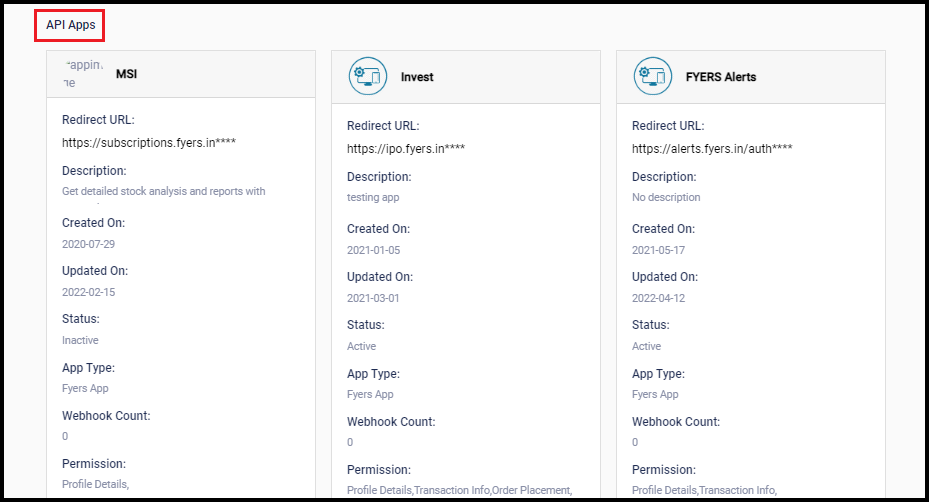 Select the API you want to cancel and click on the 'Trash' Icon.
Click on 'Delete' to cancel the App permanently: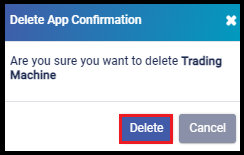 Your API will be revoked successfully.
Note
: You can create a new app whenever you want to access FYERSAPI from the My API dashboard.
Related Articles

Does FYERS provide free trial access to APIs for developers?

As FYERS API is available for free to FYERS users there is no need for trial access. However, you must be adhering to these terms and conditions. You can refer to our API Docs and create an app here to access our API. If you're not yet our client, ...

How to get started with FYERS API Bridge?

You can request API Bridge to integrate with front-end platform simply by following step by step process. Request access to FYERS Trading API. (More information on Trading API click here) Subscribe to the API Bridge here. The subscription will get ...

How do I sign up for FYERS API Bridge?

FYERS API Bridge is a tool that allows you to connect your trading strategies with FYERS Trading API and execute orders on various platforms such as TradingView, Amibroker, MT4, Python, Excel, etc. To sign up for FYERS API Bridge, you need to: ...

What is FYERS API?

We have launched FYERS trading API mainly to address the unique requirements of the Algo trading community and capital market startups that require trading related functionality without having to set up their own brokerage. With our API, you will be ...

How to integrate FYERS API Bridge Advanced Extension with TradingView?

We have released FYERS API Bridge Advanced Extension for TradingView platform with few updates. Installation For the latest version of TradingView Extension, click Help from the top menu of FYERS APIBridge. Then go to Jump Start setup and follow ...