Upon clicking on 'Create Alert', you'll be redirected to
alert.fyers.in
(We've decided to use a separate URL to avoid clutter).
2. While signing in, you have to grant one-time permission by ticking the checkbox as shown below: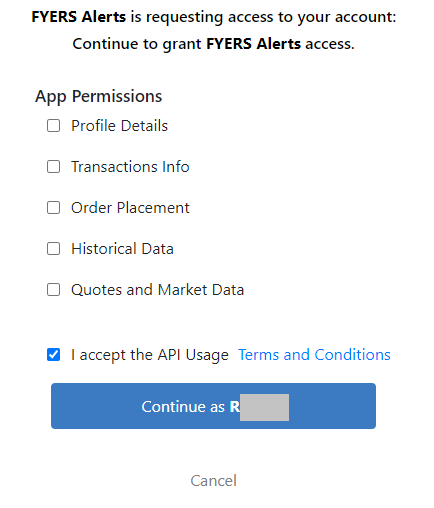 3. Once you're in, Select the Symbol, Type (i.e, LTP, Open, High, Low, etc.), Condition, and Price of the scrip you want to track. After entering the said details, click on 'Create Alert'.

In this case, Scrip Name: Zomato, Type: LTP, Condition: Greater Than (>), Price: 100
4. Your Alert will be created successfully and you'll get a confirmation on the top right corner of the page as displayed below:


5. All your Pending & Triggered alerts will be displayed on the same page. You can Modify/Delete the pending alerts as per your requirement.