How do I cancel the payout request?
If you wish to cancel your withdrawal request, you can do it under 'Funds' section in the 'My Account' portal. Go to withdrawal history and click on the '
🗑️' icon as shown in the image below:

Upon clicking on the above-mentioned icon, a pop-up would appear, click on 'Delete Request'.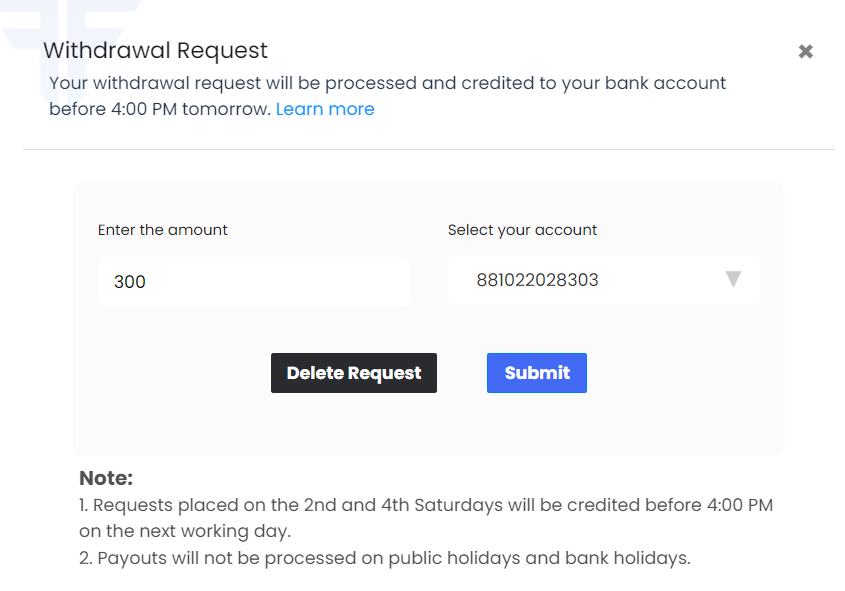 Click on Confirm to cancel your request successfully.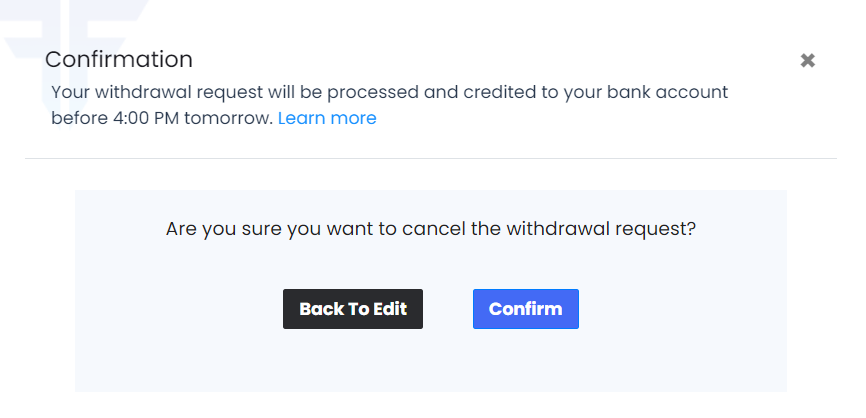 You will receive a confirmation message, 'Withdrawal request got cancelled'.
Related Articles

How do I modify the payout request?

You can modify your withdrawal request at ease. 1. After placing a withdrawal request (refer to this article), if you want to modify the amount/bank details, click on the "Pencil Icon" under the heading "Take Actions" as shown in the image below: ​ ...

Why is my withdrawal request rejected?

Your withdrawal request may be rejected due to any of the following reasons: If you are a collateral client (i.e., you've pledged your holdings) and you have open carryforward position/s, your cash balance will be used first to cover the margin ...

I requested for the payout, but money hasn't credited to my bank account?

Payout requests placed on Saturday (After 5:00 AM) and Sundays will be processed on Mondays. If there is a public holiday, payouts will be processed on the next working day. Usually, request placed on weekdays. i.e. Monday to Saturday will be ...

How much time does it take to process the withdrawal request?

At FYERS, the withdrawal timings are as follows: If you request before 5:00 AM on a working day, the funds will be transferred to your bank account on the same day. If you request after 5:00 AM on a working day, the funds will be transferred to your ...

How do I withdraw funds using a Trading Account?

All the withdrawal requests need to be placed from the My Account dashboard. Below are the steps to place a withdrawal request in Fyers. 1. Go to My Account Dashboard (If you've already logged in to FYERS Web then you'll automatically be logged in) ...