CPR value is calculated on the previous day's High, Low and Close and is denoted by three lines/levels Top Central Pivot (TC), Pivot Point (PP), Bottom Central Pivot (BC) as displayed below:

Let's take a look at the formula with which CPR is ascertained:
Pivot = (High+Low+Close)/3 of the previous day

Bottom Central Pivot = (High+Low)/2

Top Central Pivot = (Pivot - BC)+Pivot
Sometimes, the Top Central Pivot value might be lower than Bottom Central Pivot (If the market is bearish). However, the highest value of the three will always be considered as TC and the lowest to be BC irrespective of the calculations.
For Instance, HCL Technologies Ltd's High, Low, and Close on 15th December'21 was 1161.95, 1142.30, and 1148.90, respectively.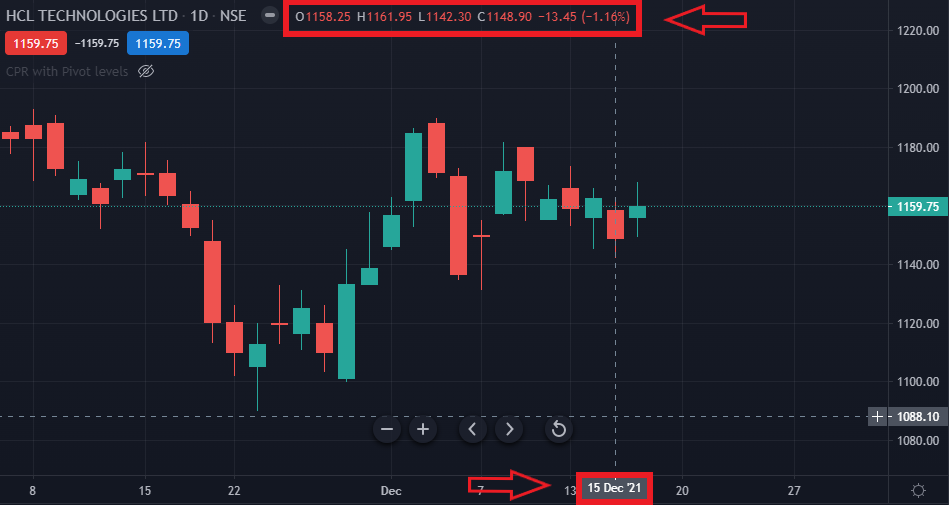 So, Pivot point, Bottom Central Pivot & Top Central Pivot for 16th December will be
Pivot = (1161.95+1142.30+1148.90)/3 = 1151.05
BC = (1161.95+1142.30)/2 = 1152.15
TC = (1151.05 - 1152.15) + 1151.05 = 1151.05 - 1.1 = 1150