How can I invest in Lumpsum to buy Mutual Funds?
Investing in lumpsum to buy mutual fund schemes is a simple process.

All you need to do is
Go to
FYERS Direct
> Login using your FYERS credentials> Open the scheme, you're interested to buy > Click on Lumpsum > Enter the amount and you'll be redirected to the BSE website for the payment > You can make the payment in four modes namely:
Direct Pay
One-Time Mandate
NEFT/RTGS

UPI
For better understanding, check out the tutorial GIF below: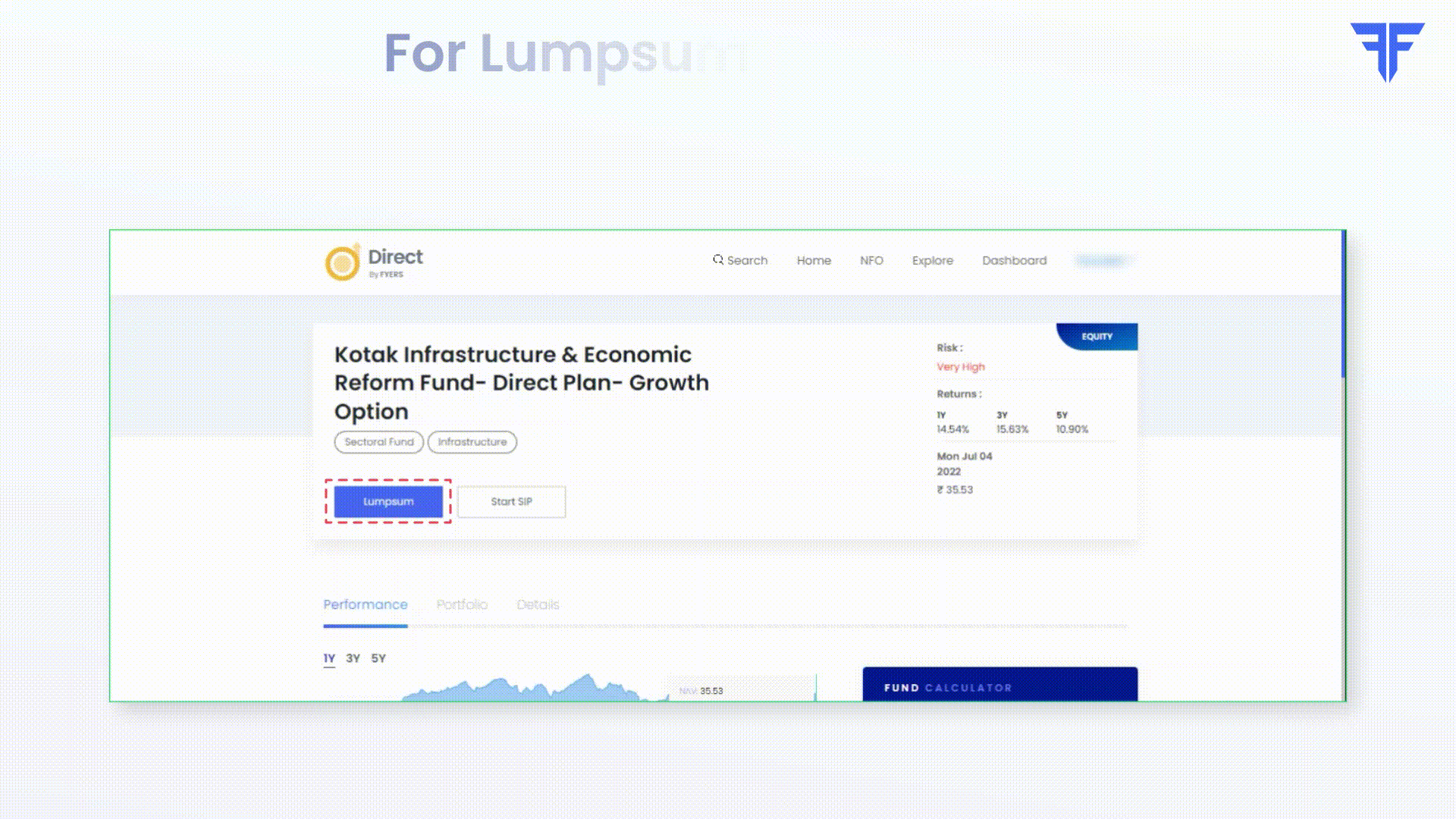 The above payment mechanism has been incorporated with effect from 1st July 2022. For more details, refer to
this notice
.
Related Articles

How can I invest in Mutual Funds with FYERS?

You can invest in Direct Mutual Funds in our exclusive mutual fund platform of Fyers Direct at Zero Commissions. The investments can be in Lumpsum or Systematic Investment Plan (SIP). The procedure to Buy Mutual Funds is as follows: Login to Fyers ...

Can I Buy Regular Mutual Funds in FYERS?

Regular Mutual Funds are the funds bought by Mutual fund brokers, distributors & advisors. Currently, we are not catering to the services of Regular mutual funds. However, you can invest in Direct mutual funds through FYERS at Zero commissions. To ...

Why am I getting an error 'Not allowed to trade in BSE Mutual Funds'?

If your Unique Client Code (UCC) has not been mapped with your Demat, you'll get the error stating 'Not allowed to trade in BSE Mutual Funds' as displayed in the below image: You're required to place an activation request at support@fyers.in to ...

Will the buy average price of stocks be the same as confirmed while buying the theme?

When you submit the buy orders to invest in a theme, there is always a likelihood that stock prices have changed by the time your orders are completed successfully. Upon submitting the confirmation to invest, market orders are placed for each stock ...

What is the difference between Trade and Invest in the order panel?

'Trade' option is nothing but Intraday where the Buy and Sell-side of the transactions happen on the same day. Trade is divided into 3 sub-categories: Intraday Cover Order (CO) Bracket Order (BO) 'Invest' option is for taking an overnight position ...