Can I customize the dates for the SIP?
Yes, we provide you the flexibility to select the SIP date as per your requirement. All you have to do is select the date you wish to do the SIP, as shown in the image below: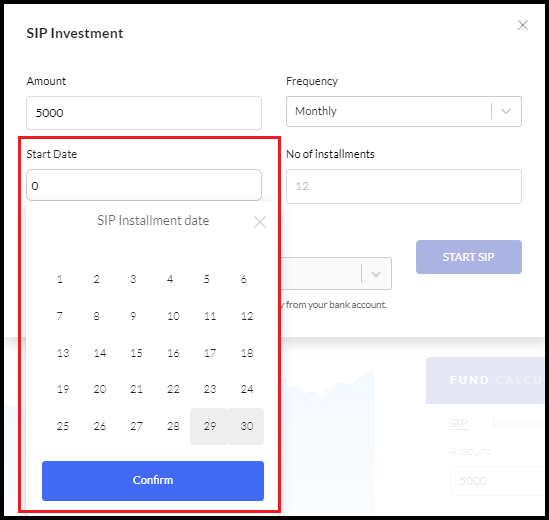 Note
:
Once the date is selected, it cannot be customized thereafter for the duration of the SIP.
Related Articles

Can I do SIP in Equity with Fyers?

As of now, there is no facility with respect to investing in Equity through SIP in Fyers. However, there are 2 ways to make it happen manually: Fyers Thematic Investing: You can use our Thematic Platform to invest in scrips through SIPs, manually. ...

Can I hold onto these contracts for as long as I want?

Derivative contracts are time-bound contracts which are valid only for a certain period of time. These contracts expire on a weekly/monthly basis. Equity derivative contracts, currency derivative contracts and commodity currency contracts have their ...

How many mandates are to be created for multiple SIPs?

You can opt for the Systematic Investment Plans (SIPs) in different mutual funds using one mandate provided the SIP amounts are lower than the specified limit mentioned in the mandate. In Fyers, the limit mentioned in the mandate is 1,00,000.

How do ELSS funds help in saving Income Tax? Can I Pledge it to trade in F&O segment?

Equity Linked Savings Schemes (ELSS) under section 80C of the Income Tax Act, 1961. These schemes are growth-oriented and invest pre-dominantly in equities. Their growth opportunities and risks associated are like any equity-oriented scheme. ELSS can ...

What is the procedure to apply for OFS in FYERS?

You can bid for the companies that go for Offer For Sale (OFS) through FYERS. The procedure to apply for OFS is as below: Go to FYERS OFS portal and login using your FYERS credentials as shown in the image below: Scroll down, and you will be able to ...